Small Business Saturday
Saturday, November 28, 2020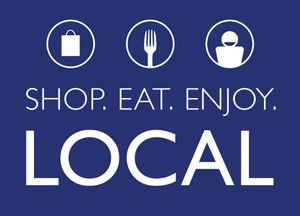 Enjoy a day of shopping local for your holiday needs. Stores in Downtown Mt. Pleasant will be open during special holiday hours and offering incentives to shoppers all day! Don't miss a chance to help local businesses while finding fun and unique gifts.
Why Small Business Saturday Matters
Small Business Saturday is an important holiday to draw attention to the importance of shopping at local businesses over large retailers. By becoming registered on small business directories for the holiday, offering exclusive deals, and marketing in advance of the holiday, small businesses can draw in customers that will hopefully direct their dollars to these businesses for the foreseeable future.
This holiday is a clear win for small businesses, but consumers benefit as well by finding great new local products and services and supporting their local economies. When shopping locally, $68 for every $100 stays in the community, while only $43 stays in the community when shopping non-locally. Shopping locally also offers a more unique product selection which is the primary reason that shoppers state they prefer small and local retailers.
Additional details will be announced as the event approaches.
For more information, please contact Michelle Sponseller City of Mt. Pleasant Downtown Development department at 989-779-5348 or msponseller@mt-pleasant.org .